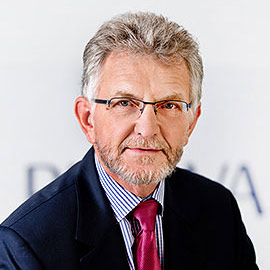 Joachim Göddertz has been a member of the PINOVA Expert Advisory Board since 2015 and advisory board member at portfolio company Rademacher since 2014.

He has held a range of management positions in high-profile industrial firms as director or CEO. Joachim Göddertz spent 15 years at Klöckner-Moeller/Moeller, a leading manufacturer of components for automation and energy distribution. Other previous employers include Electronic Network, Mettler-Toledo, and Robert Bosch.

Joachim Göddertz studied Electrical Engineering and Automation Technology at Düsseldorf University of Applied Sciences, graduating with a Dipl.-Ing. degree.